Post | mei 2022 | 2 min lezen
BI works! Personio employees at work in the Koffiehuis
The Koffiehuis on the Haarlemmerstraat is a place where everybody is welcome. Undocumented and homeless people drink coffee there and work to earn a little money. They do this, among other things, in the "Veegploeg" (Sweep Squad). This ensures that the streets in the inner city remain clean. After work they always get a free lunch in the Coffee House. A few weeks ago this lunch was provided by employees of Personio, a young international HR software company. This company feels the social responsibility to get involved in society and also puts this into action. For example, they give employees the opportunity to do volunteer work during working hours. That's why they signed up for Business Involved Amsterdam, a joint project of the municipality, Deedmob and VCA to link companies to social organizations, among other things by giving employees the opportunity to volunteer. The project has been active for about 6 months now and is bearing fruit.
Personio cooks for the sweeper team
Rachida, the VCA (Vrijwilligerscentrale Amsterdam) project leader of Business Involved put them in touch with the Coffee House where a number of employees started volunteering. On this impact day, they prepared lunch for the employees of the 'Sweep Squad'. It was a day of shopping, stirring pots and pans, serving, scrubbing pans and finally leaving the kitchen shiny again. The staff of Personia was very much entrusted with this job. As if they did this every day, the (hot) lunch was ready in time and the people could sit at the table, they were served, handed out, had a chat and it was an attractive afternoon.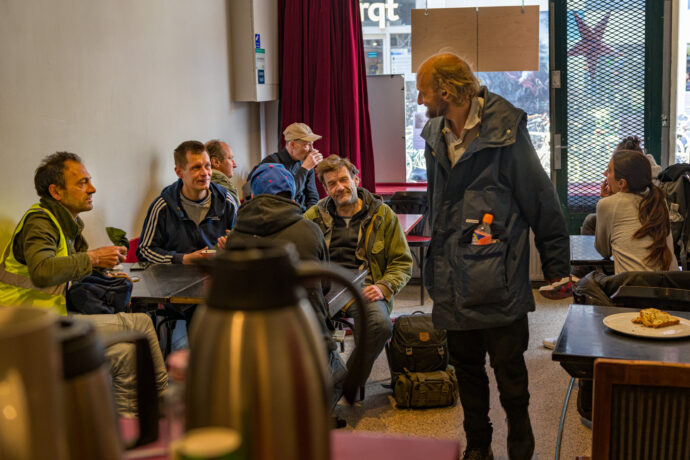 Because the language of communication at Personio is English, the contact with the foreign-speaking homeless and undocumented people was very smooth and natural. One of the goals of Impact day of Personio was "to give the employees a nice experience that enriches them and inspires other employees and companies to get involved in society as well. We certainly succeeded in doing so! Not only the employees of Personio, but also those of the Koffiehuis were more than satisfied with this collaboration.
Both parties have a taste for it. Together with Business Involved Personio is looking at more initiatives where other employees can get involved and at the Koffiehuis the next group of company volunteers is eager to get started. On Saturday, May 14, 2 next groups of corporate volunteers will get to work.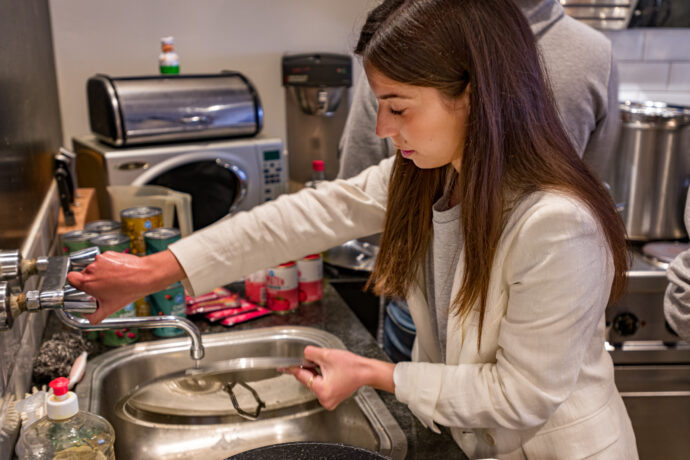 Julia: "I am grateful what we were able to do. I had no expectations of this day. I did hope for a special experience. That it is special is certain. It's so nice to dedicate yourself to a group of people you don't get to interact with on a daily basis."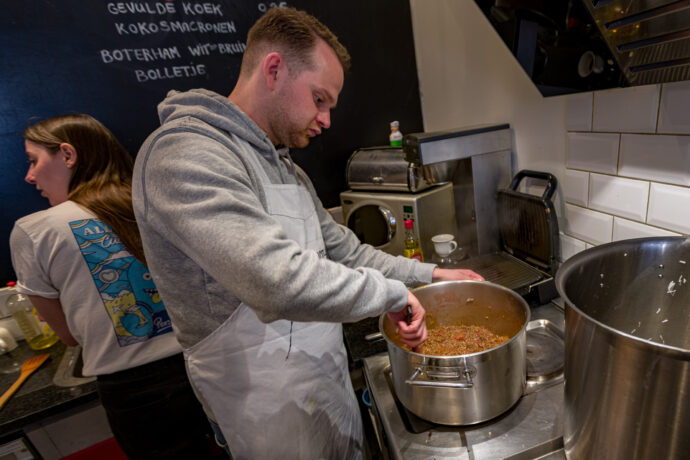 Justin: "My role as an amateur chef today was special and I enjoyed it. Normally on a weekday I sit in the office and go from one (digital) meeting to another. To be able to do this like this is very special and I would definitely like to do this more often."